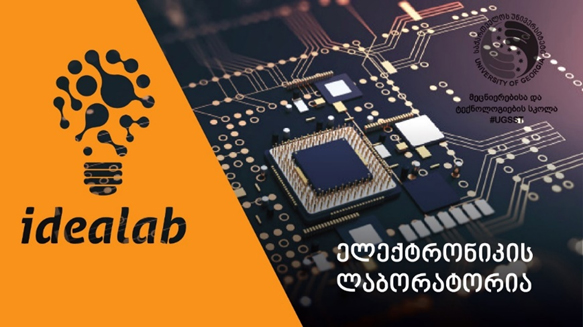 18.02.2020
Modern technologies, the Internet, fast and boundless information provide an opportunity to implement more and more new and incredible ideas. To this end, Idealab Laboratory of Ideas for Students, and not only for students, was established at the School of Science and Technology of the University of Georgia.
Idealab is a space where all interested young people and students can come up with an interesting idea and use modern technologies to implement it. The lab has a convenient workspace. It is equipped with modern equipment and inventory of electronic engineering such as 3D printer, laser cutter, CNC machine, oscilloscope, signal generators, multimeters, Arduino and Raspberry modules, various types of sensors. "We hope that very interesting projects will be created here, students will work and take steps towards future successful technologies, we think that the basis for future progress will really be laid here", said Professor Irakli Noselidze, Head of the Engineering Department.
The School of Science and Technology has close ties with various European universities and is actively involved in EU projects. One of them is the Erasmus + funded project "Development of Environmental Security Training Programs, MENVIPRO".
"The School of Science and Technology is constantly trying to introduce and develop important research and training activities. One of the most pressing and painful topics is environmental safety and protection. That is why our university is involved in this project, the main goal of which is to introduce and develop new technologies for environmental safety. With the support of this project, we have acquired and arranged a modern workspace where students will be able to work on real projects under the guidance of practicing mentors. Our goal is to develop the student's skills to increase his / her professional competitiveness during his / her studies. Idealab, like other laboratories in our school, is committed to giving students the tools they need for professional growth", Professor Kakha Tavzarashvili, Dean of the School of Science and Technology, tells us.
One of the projects that has already been implemented in Idealab is Bionic Hand prosthetics. It is well known that high-tech hand or foot prostheses that work according to the human brain or muscles cost hundreds of thousands of dollars. Students at the School of Science and Technology have created a hand prosthesis for people who have lost metacarpel, although the biceps or wrist muscle are still working. The principle is that if a special myo armband is attached to a person's hand, he or she will be able to control the position of the prosthesis's fingers by stretching the muscle.
More specifically, this prosthesis was made on a 3D printer idealab, with Servo engines and the main control unit - Arduino and myo armband - installed inside. Mio's bracelet transmits information to Arduino as to which muscle to stretch, then Arduino activates the appropriate engines and the fingers are tilted. Ultimately, this is a project that is much cheaper than existing prostheses and is easy to make with a 3D printer.
"I am currently in my third year and during this time the university allows me to work on many projects and develop my practical skills. In particular, I want to work on smart security systems, as there have been frequent fires and human casualties due to natural gas leaks. My goal is to solve the above problems, which is what the School of Science and Technology allows me to do. Along with other existing laboratories, Idealab is another place where I can make the most of my resources", said Nika Nozadze, a third-year student in Electronic and Computer Engineering.